897th and 3562nd Ordnance Heavy Automotive Maintenance Companies, 1941-1945
The Yanks in Britain, Reader's Digest (1984)
The first American foot soldiers to reach the British Isles in preparation for the invasion arrived early in 1942, just 50 days after Pearl Harbor. Britain had never seen the likes of these breezy, long-legged Yanks, eventually to be 1.5 million strong. They came with swarms of planes, parked their Sherman tanks in rows 10 miles long, stockpiled 6 millions tons of bombs, guns and ammunition – threatening, the British said, to sink their island. GIs were everywhere, jitterbugging to "In the Mood". Few could resist their high spirits.
To the husky, well-fed GIs, the British looked threadbare, worn out by the war – which, for them, had begun in 1939. The Americans gave away whatever they had; Hershey bars, cigarettes, oranges. But GIs saw that the local people gave back even more than they received, that every door in every village was open to American servicemen, and, as one put it, "You could always get a bean sandwich and a cup of tea."
And then, all at once, the Yanks were gone, riding off in winding convoys or 2 ½ ton trucks to camouflaged harbors and hidden airstrips. The streets fell silent, and in the pubs, people sipped their beer and fell silent.
England, 1944. Top: Wambold, Radke, Reginald Howse (British). Bottom: Wright, Albright, Brown, Gocek, Swanson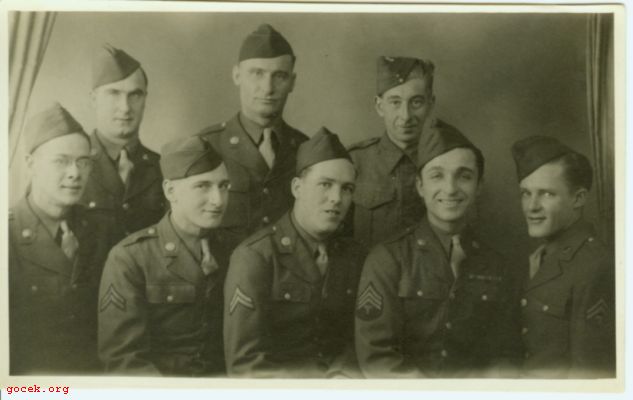 The Monk's Retreat Pub, Gloucester, England