897th Ordnance Heavy Automotive Maintenance Company
3562nd Ordnance Heavy Automotive Maintenance Company
1st Army, V Corps, European Theater of Operations
Belgium, 1944: the war rages on, the weather is lousy, and your truck's frame is bent. Who ya gonna call?

The 897

th

, that's who!

They performed difficult repairs under adverse conditions.
Welcome to this WWII history site commemorating the 897
th
and 3562
nd
Ordnance HAM Companies, maintained by the son of 897
th
veteran Julian Gocek. I love to hear from veterans and their families, current service people, and history buffs. With the passing of my father at age 97 in 2015, I doubt any 897
th
vets are still with us. Best wishes to all the families.
The site is laid out to be mobile-friendly, but with over 250 original wartime photos from the Gocek, Hammond, and Chenevey families, and others, watch your data usage. Just keep scrolling! Contact info at the bottom.
897th thumbnail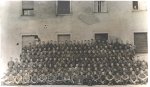 This day in history: Monday, October 4, 1943: Camp Haan, Riverside, CA, USA.Having been alerted for overseas movement, company personnel focus their training on tools and equipment. Personnel who had not had furloughs or leaves in the past year are given them.
Featured:
Stateside training:
Overseas:
Postwar stuff, commentary:
February, 2016, newly scanned and reconstructed 40" posters of the Camp Lee and Palm Village areas.