897th and 3562nd Ordnance Heavy Automotive Maintenance Companies, 1941-1945
Transcription Notes and Contact Info
These internet versions retyped 2005-2006 by Gary Gocek, son of 897th veteran Julian Gocek. Much information comes from typewritten documents that were distributed at my father's company reunions. I have edited different documents to different degrees, depending on the document. You may send me comments and photos via email or US Mail and I'll try to upload them into this site. Include a caption for each photo and a stamped, addressed envelope for the return of your photos. My address is 18 Log Cabin Circle, Fairport, NY 14450. I have high-resolution scans of many photos, more suitable for printing than the web images. Contact me for more info.
The "this day in history" entries were written mostly by Ben Noster and William Lake, with a bit from Axel Swanson. There are 115 entries from September 4, 1942 to September 3, 1945. The replay cycle begins on September 4 of a year that is two years before a leap year (such as 2018) and repeats one year of entries per year before restarting four years later. This formula ensures that an actual date of February 29 calls up the log entry from 1944, when there was a February 29. The entries are stored in an XML file and are retrieved with custom software.
Not being a military guy, the only confusing aspects of the history for me were the references to "echelons". My research indicates that in military maintenance jargon, there are five echelons, ranging from minor maintenance performed by a driver as needed (1st echelon) to major body repairs like frame straightening (5th echelon). Under combat conditions in the open field, 3rd echelon or higher services were especially difficult.
Photo from 1943.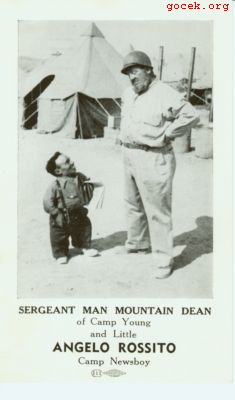 For me, the best parts of the histories are the parts that diverge from the factual lists of towns to the more personal accounts of the activities of those days. The anxiety produced by observing the American armor retreat past Stavelot makes for a suspenseful story. If you have any stories or heard a family member tell stories, please send them to me for inclusion here.
My father often related how the Company once had a cook who could do wonders with powdered eggs, and how the enlisted men suffered when that cook was transferred. He remembered chipped beef on toast, otherwise known as SOS (Shit On Shingles, pardon my French). He talked about driving at night without headlights in order to avoid enemy fire. They located pubs in England by looking under doors for cracks of light because the windows were all covered. He remembered that Company soldiers sometimes tried to shoot down the buzz bombs. He was disappointed that he was so close to Poland, where his parents were born, but he never made it over the border. He was frustrated with the cold winter and moving around so often and not having adequate socks and boots, and he loved those periods when he slept in a building in a bed and had a hot shower and plentiful coffee. He remembered the plane crash in California described in the condensed history. He didn't talk much about the real horrors of war, and the supreme sacrifice that he must have witnessed all too often. I hope that this transcription for the internet pays homage to soldiers of all eras everywhere.
These histories seem to disprove the rumor that the Tower of Pisa stood up straight until the 3562nd's convoy rolled through. :-)
Courtesy Rich Hammond, grandson of Howard Hammond.